Post WWII Germany, which is what we see today, has three parts: 1] Devastation in WWII and restored; 2] Devastation in WWII and rebuilt; and 3] Lightly damaged or not damaged at all in WWII. Most of the things tourists go to Germany to see are pre-WWII stuff, and this raises a philosophical point: if it was destroyed in WWII and then restored after war, is it real, or is it Disneyland? On the other hand, if it was undamaged by WWII, it is certainly real and as old as it claims to be, like the remains of the Roman Walls in Regensburg or some Roman ruins in Trier (which was for about 200 years, the capital of the Western Roman Empire, replacing Rome).
When it comes to reconstruction, there are two ways of doing it-- use modern building methods to produce a copy what was previously there, or rebuild from the rubble. The Dresden Cathedral reconstruction, whose reconstruction took until 2005, tried to identify the location of every piece of rubble and to rebuild the church with its own original parts, as much as possible, using the rubble, what was essentially a 3D jigsaw puzzle.
Berlin and Cologne are prime example of replace, not restore rebuilding, and their mid 20th C architecture was, and to the extent that it remains, remarkably ugly. Fortunately, recent years have witnessed the beginnings of the replacement of these disasters with more attractive contemporary structures... As for the never damaged, authentic old Germany, look to rural areas, in particular Bavaria, and especially along the Romantic Road-- Dinklesbuhl, Nordlingen, and Rothenburg o. d. T. Major cites in the Middle Ages, theses cities location not only kept them out of direct contact with WWII, they have been irrelevant backwaters for 500-600 years. They have survived untouched by war destruction because nobody cared about them and they were not in anybody's way to some important place. This is the authentic surviving Medieval Germany.
It may or may not matter to you, but I find it to be a importation distinction, the difference between 'this is what it looked like 600 years ago after we rebuilt it in the 1950s and 'this is 600 years old'. The first you can also see in Disneyland. The second is only in Germany.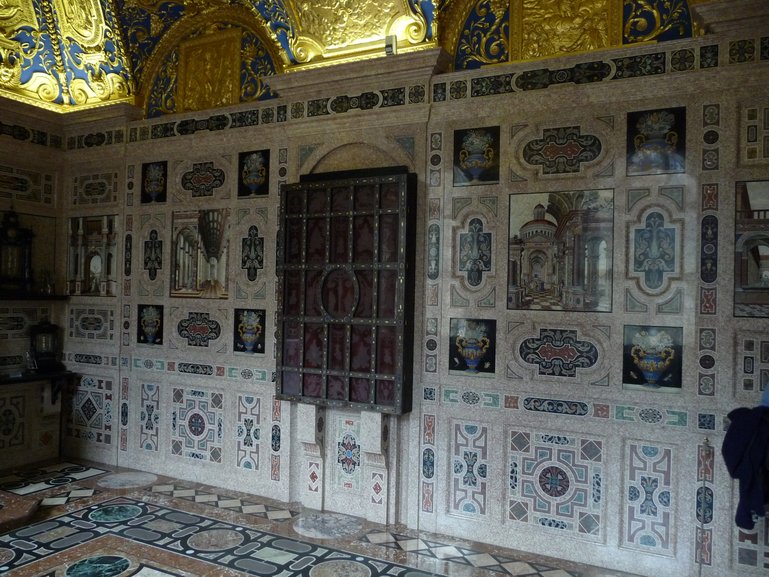 Palace: Munich