Chicagoans are known for their enthusiastic holiday celebrations! Each of Chicago's vibrant neighborhoods brings their own holiday flare, and you won't be short on funtivities while visiting the Windy City.
What To Eat & Drink:
---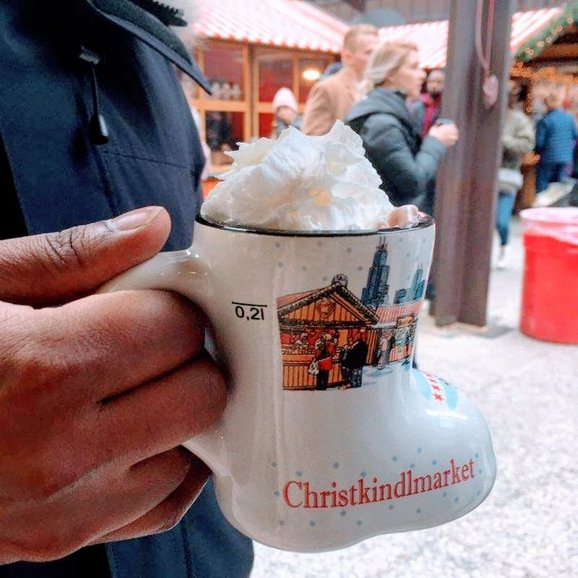 Photo credit: Maggie Wiest
1. Virtual Christkindlmarket Chicago
Perhaps the most beloved Christmas tradition in Chicago is the Christkindlmarket. The pandemic has moved this event online, but you can still order your Christkindle boot mug to enjoy from the comfort of your own home. Order your German snacks, hot chocolate, ornaments, toys, gifts, and more here. Until we can pile into Daley Plaza eating schnitzel and drinking mulled wine together, enjoy your European Christmas at home with their online marketplace.
Learn more the Chirskindlmarket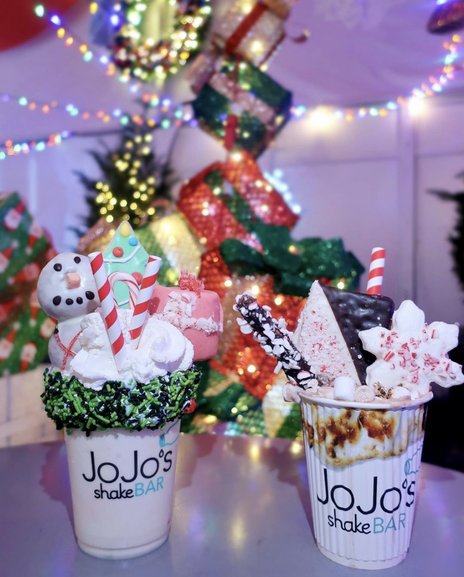 Photo credit: JoJo's Shake Bar
2. Jojo's Shake Bar
JoJo's Shake Bar, located in the trendy River North neighborhood, creates an Instagram perfect holiday wonderland to get you in the spirit! Their 5,000 square-foot outdoor heated patio is filled with lights, music, and decorations sure to brighten up your holiday feed. Besides the good looks, JoJo's offers over-the-top delicious holiday shakes, milk and cookie flights, baked hot chocolate and so much more.
Learn more about JoJo's Shake Bar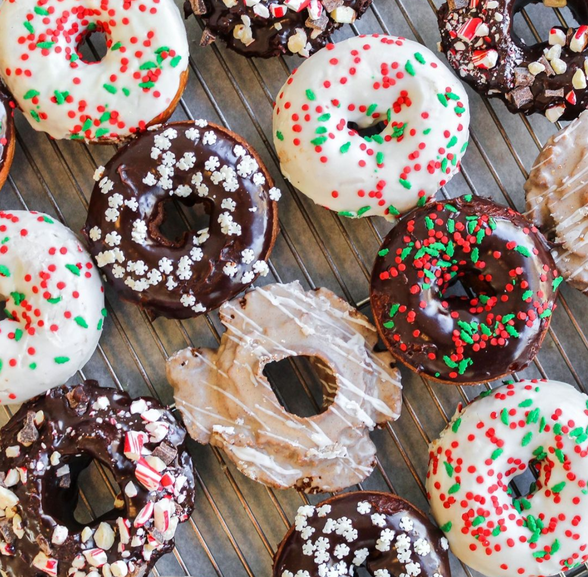 Photo credit: Stan's Donuts Chicago
3. Stans Donuts
An L.A. import turned Chicago favorite, Stan's Donuts & Coffee holiday goodies are local favorites. This December, get your sugar rush with creative donut flavors like Gingerbread Old Fashioned, Eggnog Le Stan, Peppermint Bark Old Fashioned, Gingerbread Gluten-Less Vegan Chocolat, and more. Located throughout the city, be sure to grab a cup of their famous coffee to go with your holiday treat!
Learn more about Stan's Donuts
Holiday Activities:
---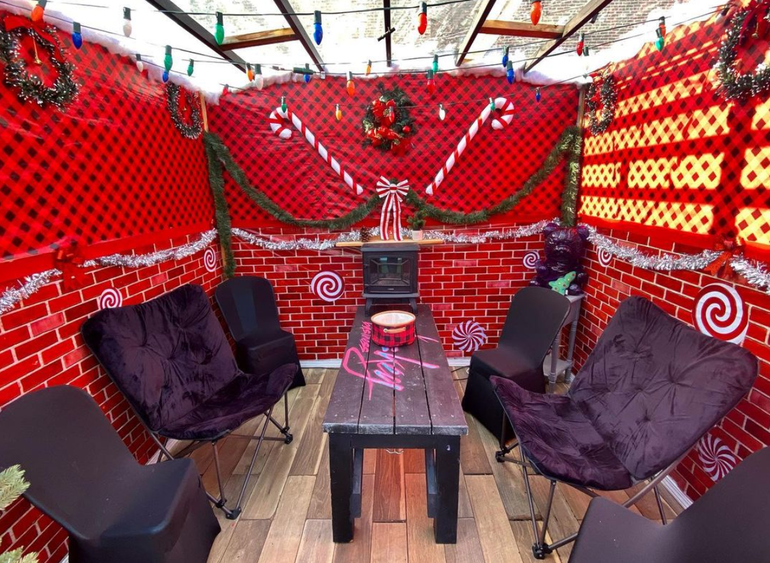 Photo credit: Whiskey Business
4. Whiskey Business Movie Nights
Located in the heart of trendy Wicker Park, Whiskey Business (bar & restaurant) created the ultimate cozy outdoor moving dinning experience. While indoor seating is on hold, Whiskey Business has decked out their rooftop with comfy seating under the stars (bring your own blanket recommended!). Your $10 includes reserved seating, headphones for the film, and a bag of popcorn. Additionally, you can reserve a heated "gingerbread house" for your party to enjoy the film in – while decorating gingerbread houses! Holiday movies are playing every Monday, Tuesday, and Thursday at 8:00 PM CST throughout December. Films include holiday classics such as Home Alone, It's A Wonderful Life, Miracle on the 34th Street, Elf, and more.
Learn more about Whiskey Business Movie Nights
Where To See Holiday Lights:
---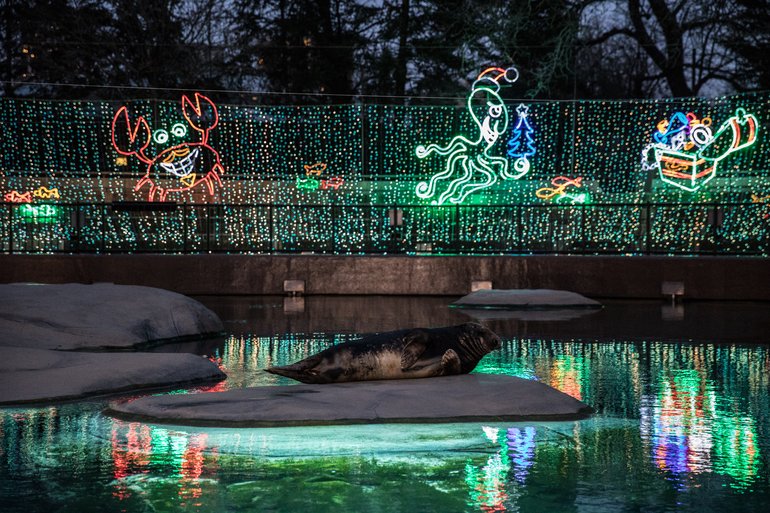 Photo credit: Christopher Bijalba / Lincoln Park Zoo
5. Lincoln Park Zoo Lights
Founded in 1868, the Lincoln Park Zoo presents an inspiring, magical, and family-friendly holiday lights display. For $5, families, couples, and friends can gaze at hundreds of luminous colors alongside world-class animal exhibits. With an additional ticket, adults enjoy festive spirits and warm snacks at Snowy's Spirits & S'mores pop-up. Proceeds raised from this event will support the zoo's conservation efforts.
Learn more about Lincoln Park Zoo Lights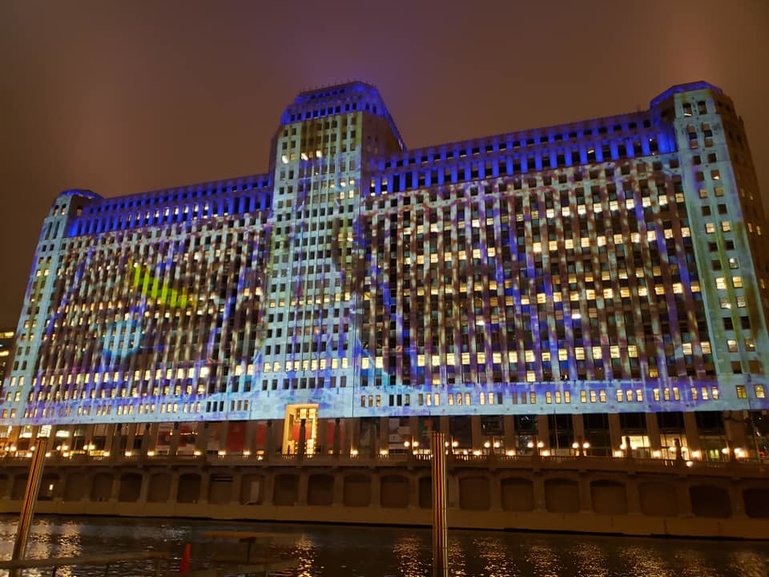 6. Art On theMART
Tchaikovsky's The Nutcracker comes to life on Chicago's 25-story-tall Merchandise Mart. This unique video installation will project animations from the Joffrey Ballet's Nutcracker, the Art Institute of Chicago, and nonprofit Arts For Life. For the best view, head across the river and find a spot on the newly renovated and vibrant Riverwalk. The free video performance takes place every night at 7:00 PM and 7:30 PM through December 30.
Learn more about Art on theMart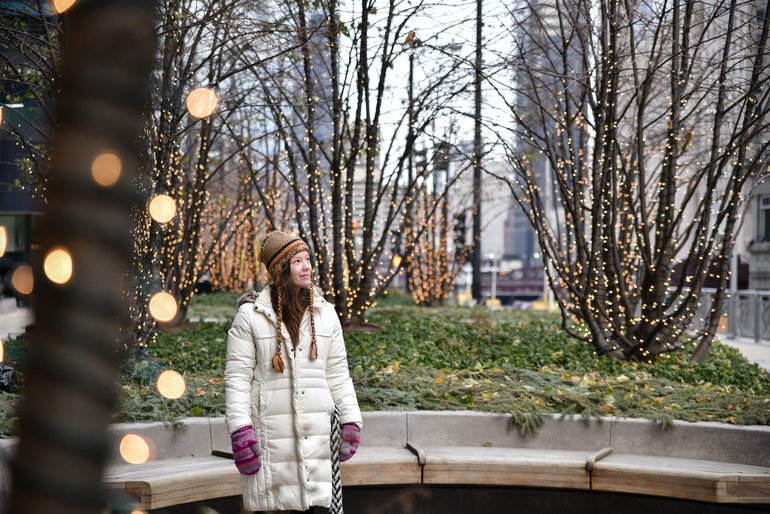 Photo credit: Austin Henckel on Unsplash
7. Magnificent Mile Lights Festival
Every November, Chicagoans look forward to a musical nighttime parade to kick off the holiday season. While the festivities have gone virtual, Chicago's Magnificent Mile will still shine with over one million holiday lights. Take a 13-block stroll down North Michigan Ave. to soak in the lights and Chicago's famous skyline. You can even get some holiday shopping done while wandering around Chicago's luxurious retail scene.