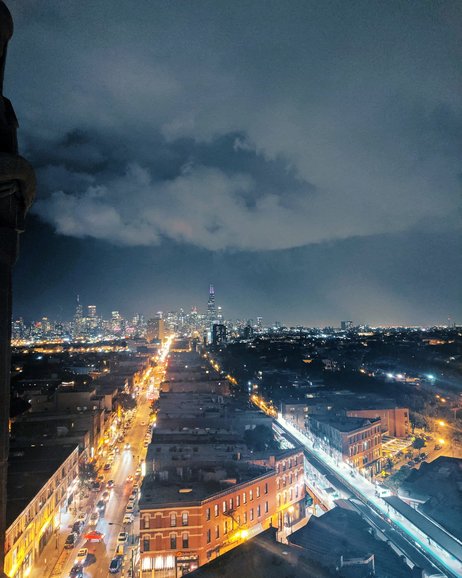 View From The Up Room
Queen Mary
---
Good for: Date, Friends, Casual
Highlight: Navy Strength Old Fashion
Queen Mary is my absolute favorite bar in Chicago. The drinks are amazing, the staff is brilliant creators, and the vibe is perfect. The interior of this intimate lounge is reminiscent of, you guessed it, the royal voyager Queen Mary.
These are the sort of bartenders you say "make me something with rum" and they come back with the best darn rum cocktail you've had in your life.
Violet Hour
---
Good for: Date, Intimate Conversations, Cozy
Highlight: Creative Seasonal Menu
The Violet Hour revolutionized the cocktail scene in Chicago. Their bartenders are geniuses and are some of the very best you will find in Chicago. With a seasonal menu, created by the staff, The Violet Hour is a modern-day speakeasy. So be sure to class it up and take off those gym shoes. This intimate, Gatsby-Esque speakeasy doesn't allow cell phone use, so bring your date and keep it classy.
The Up Room
---
Good for: Chicago Views, Small Groups, Date
Highlight: A Wide Whiskey Menu
This hidden gem is often overlooked because it sits just above its sister, The Robey, at six-corners. Take the elevator to the tip-top to find this intimate lounge with gorgeous panorama west-side — views of Chicago's skyline. The cocktails are lovely, and there is quite the selection of whiskey. The real thrill is the views, and they even have a heated patio for you to enjoy when Chicago's chilly winters kick-in.