My family just had the BEST beach getaway. Seriously — the best.
Last week was our annual family reunion. It was our first reunion after the passing of both Nana and Papa, the patriarch and matriarch of our big Italian family. We knew that coming together would feel very different, and each of us were mentally prepared for whatever emotions that would bring.
On top of that, it's a bit difficult planning a family reunion during the pandemic. "Are we going to be safe? Is the beach going to be crowded? Will anything be open?" These were all questions that ran through our heads.
Perhaps my experience can shed some light...
1. Was it crowded?
---
The best part about this beach trip (and what I think made it so great) was that our part of the beach wasn't crowded at all.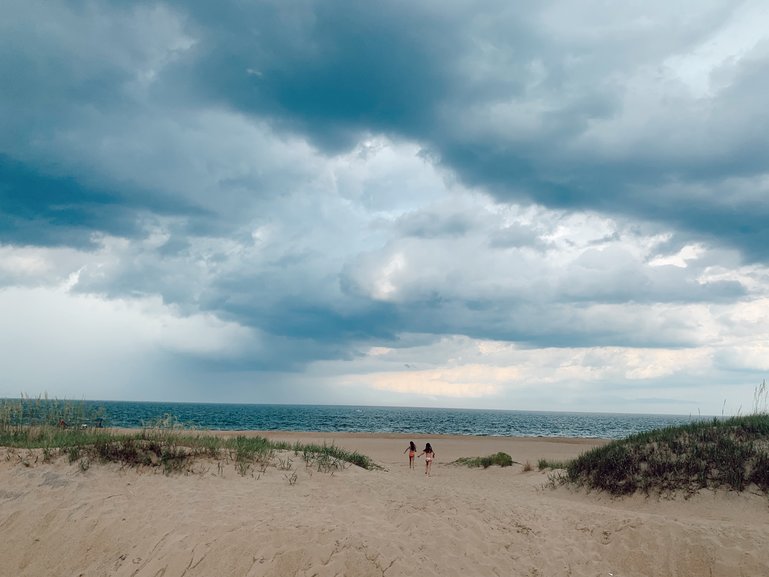 My family chose to rent a VRBO right on Sandbridge Beach in Virginia. Sandbridge is about 20 miles away from the tourist attractions of Virginia Beach, where the boardwalk and shops are. Surrounding us were locals and other home renters, each spread out to be positioned right in front of their homes on the beach. This gave us plenty of room to set up 1,2..3 tents for our great big family to camp out under with 6+ feet of distance between us and the next family!
2. Were the local vendors and shops open for business?
---
Yes! Every shop, restaurant and vendor local to Sandbridge was open for operations as normal. Of course, each shop and restaurant took their precautions, but we were certainly not lacking things to do.
My cousins and I even signed up for a group surf lesson with a local vendor! It was an experience that we will never forget. There were also kayak, fishing, bike, and boat rentals available to us.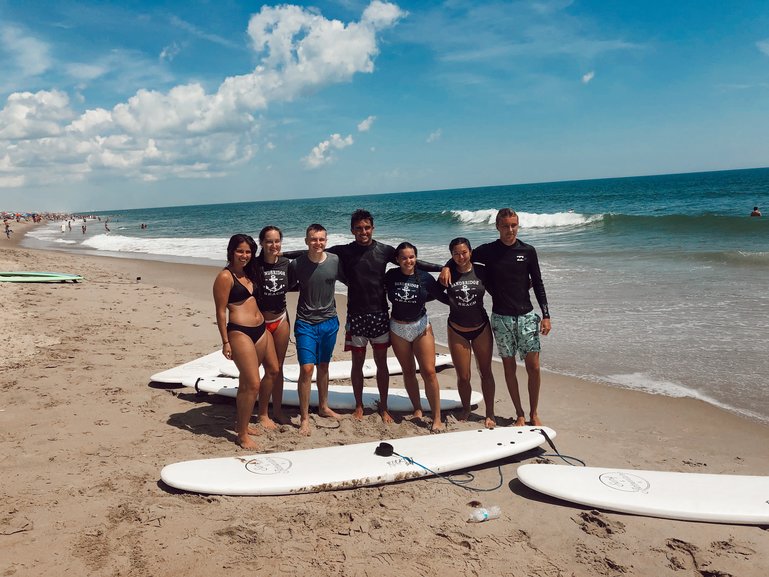 3. Did you have to wear a mask?
---
In the small town of Sandbridge and beyond, the local shop owners do require that you wear a mask while inside of the stores and outdoor markets. It felt like a common courtesy and part of my responsibility to make sure that I was a good steward of the people around me while I was traveling to their town.
On the beach, masks were not required. Like I said...we were more than socially distanced from the people around us and wearing a mask wasn't necessary! Plus, the beach heat was definitely not mask-friendly.
4. Where did you stay?
---
Our family decided to rent a large beach-front house instead of going the traditional beach condo or beach hotel route. We felt a bit more comfortable with this option, considering that we would never have to come in contact with someone that was outside of our family!
Another great thing about the VRBO rental was that it was distanced from the big, touristy attractions. Most hotels or beach condos would've been right in the middle of it all. We were at the southern end of Sandbridge, so if we wanted to travel down to the boardwalk, it would've been a 25 minute drive. Our spot was much more local. That was the right move for us!
5. Hello, sea life!
---
Dolphins, dolphins and more dolphins! One of the best experiences of the trip was being able to wake up at sunrise and swim with the dolphins! Because of the pandemic and the fact that there are less people at the beach, sea life is coming even closer to the shore! (Don't worry...no sharks were spotted!)
Every time I looked out to the ocean from the house's top deck or from my beach chair, I'd see pods of dolphins popping up from the water and showing off their fins.
Having sea life closer to shore also meant that we saw an endless array of crabs...and jellyfish! No need to worry...the crabs were Atlantic ghost crabs. They minded their own business digging burrows and participating in stare-contests whenever they'd grab our attention. The rising ocean temperatures are also a breeding ground for jellyfish. As long as you keep your eyes open while in the water, you'll be good to go! Plus, they're little guys, so the risk is minor.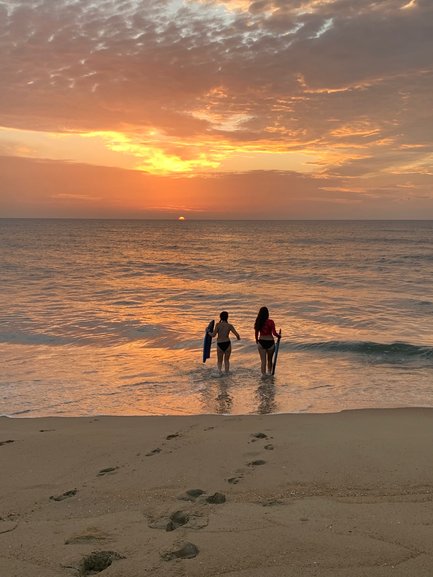 Overall, our family had an amazing reunion together. While there were some hesitancies going into the trip, we were able to rest easy once we got there.