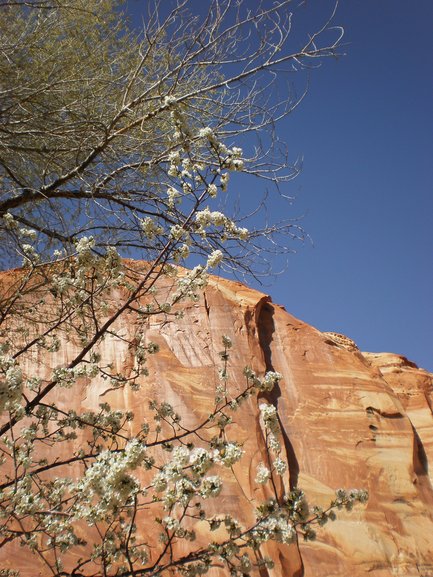 Apple Blossoms, Capitol Reef NP
In 2016, Trump won 45% of Utah's vote. In 2020, Trump won 58%, That alone ought to tell tourists to stay out of Utah, but wait there is more. Trump's gross mismanagement of COVID-19 combined with that of Utah's equally incompetent Republican state government has turned one of the world's top tourist destinations into a disease ridden cesspool. If you must tour the west in the COVID era, head for the USA's west coast: The COVID-19 infection rate per 100,000 people in these places is (as reported on 11/22/2020):
UT: 5818 (state)
Salt Lake City: 6555
Provo-Orem: 7597
CA: 2815 (state)
Los Angeles: 3543
San Francisco: 1660
OR: 1560 (state)
WA: 1936 (state)
For the counties along the scenic coastline of OR and WA: less than 500 to 1,200.
For some counties that include National Parks:
Olympic NP, WA: 506
Crater Lake, OR: 953
Redwood, CA: 536
Yosemite Valley, CA: 524
In Utah
Zion: 5181
Bryce: 4445
Capitol Reef: 1633
Arches: 2756
Canyonlands: 2756 & 6459 (big place, two counties)
Not only are Utah's national parks surrounded by disease ridden communities, many of the parks themselves are overcrowded with tourists. Zion's attractions are almost all located along a 6 miles long dead end road and Zion was the fourth most visited national park last year. Of the three national parks with more visitor's than Zion-- Smokey Mtns., Grand Canyon, and Rocky Mtn.-- only the Grand Canyon is, like Zion, a destination park. Visitors to Rocky Mtn. and Smokey Mtns are primarily day trippers from nearby population concentrations.
Is it possible to safely tour in Utah? Maybe. I tried it, but only because I have lived in UT for the last 23 years. Knowing how Utah utterly failed to contain COVID-19, I took special steps.
If you don't know this stuff, so stay out of Utah. For the record, here's how I did it in mid-November when I took a day trip to one of Utah's stellar but least visited National Monuments where I took, not the star attraction road into the Monument, but I went to one of the relatively obscure other roads into the Monument. This road has only 5 pull over scenic overlooks. At the 5 stops, I saw a total of 7 other tourists-- 2 at 2 stops, 3 at one stop, and nobody at 2 stops. Extreme social distancing was easy to do. I stopped at the Visitor's Center to use the WC-- nobody else in sight. Visited a WC at one of the stops, nobody else in sight. Self-service gas stations, and I packed the day's food and drink in a cooler with ice.