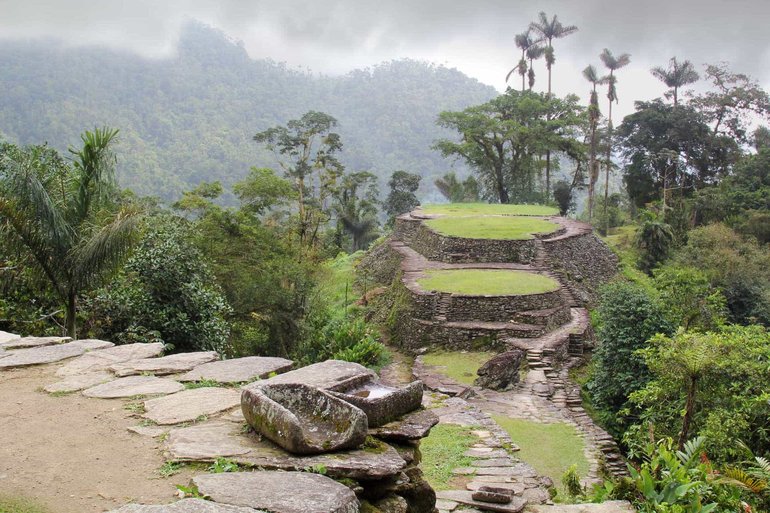 Lost City Santa Marta, Colombia
To go to the starting point of this cradle of natural and cultural treasures you must take the Troncal del Caribe from Santa Marta, via Riohacha. Subsequently follow a 3 hour road trip to a small town called El Mamey. After all this journey begins the real journey, it is an adventure in which you immerse yourself in the mountain, you will pass routes that will put you to the test and for which it is advisable to have a good physical condition, because during your visit to this immersed city In the mountain, you must walk between four and six days in the wild forest.
When entering the mountainous massif of the Sierra Nevada de Santa Marta you will find the Teyuna Archaeological Park "Ciudad Perdida", it is an area of ​​particular beauty, administered by the Colombian Institute of Anthropology and History - ICANH.
It is considered the heart and sacred place of the four indigenous peoples of the Sierra, Kogui, Arhuaco, Wiwa and Kankuamo. With them you will know the great cultural significance that is housed in this place, the traditions, customs and stories of their ancestors will leave you amazed.
This sanctuary of nature is unique in the world, born in the Caribbean Sea and crowned in the snow at 5,775 meters high; surrounded by crystal clear rivers and fresh and powerful waters. There is not hotels. There is no internet signal or cell phone signal and electricity is scarce, sometimes even there is not. It is a place where you will feel isolated from the hustle and bustle of daily life and problems. Once there, there will be only place in your mind to contemplate the majestic vegetation of the forest and connect with nature.
Come, walk its stone paths to the circular terraces characterizing its Tayrona architecture, dare to practice its trekking considered one of the best in the world. Meet this city of stone that springs up like a miracle in the middle of the jungle.