Marche Region is one the most amazing hidden treasures in Italy.
They're not so popular among Italian and international tourists probably because everybody still don't know how great is their offer. First of all a little curiosity: Marche is the only region who is plural.
Its name derives from Mark in German: many frontier territories, all together in the same area but always divided until they aggregated into a single administrative unit. So, they are plural, not only in culture, dialects, cities, but also in landscapes. Mountains, sea, lakes, natural wonders, all around hundreds of small medieval villages, with unique historic and archaeological sites.
Biggest city such as Ancona, Recanati, Loreto, Pesaro or Ascoli, are probably better known but there are so many places outside mainstream tourist routes, that are really worth a trip.
This year everybody had the opportunity to discover or learn more about the beauty of their surroundings, and so did we.
Here's the list of top 5 unknown places in Marche Region, we really enjoyed.
Montelupone
---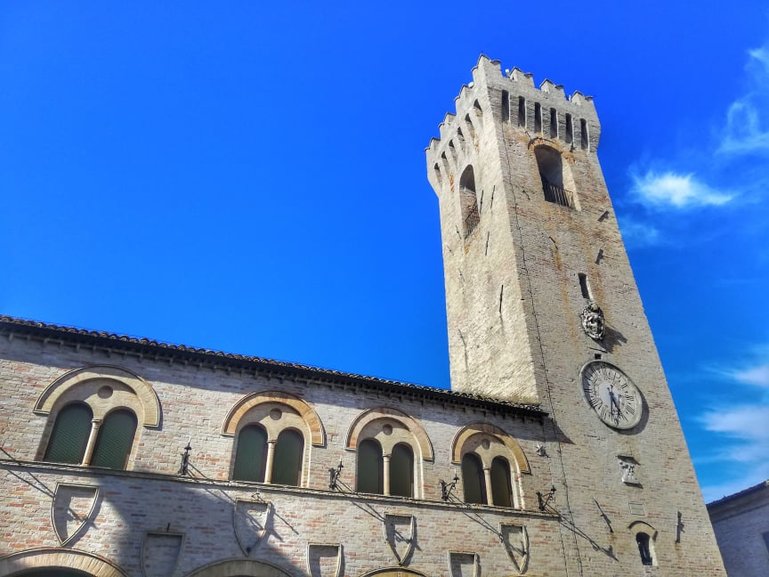 Montelupone's clocktower
In the province of Macerata, Montelupone is a small medieval village which belongs to Borghi più belli d'Italia. Its ochre buildings are welcoming, so the small central square, called Piazza Salotto is. In a corner there's a terrace with a wonderful panoramic view and in the evening every car should be removed to leave space for tables, happy hours or events.
Here you will notice the theater and "Palazzo dei Priori", renowned for its clock tower and ancient clockwork.
The San Nicola degli Angeli Theater is a little hidden gem, with red armchairs, balconies and frescos on the ceiling. With a free guided tour by local volunteers, you will be able to see it from every angle, even from the backstage.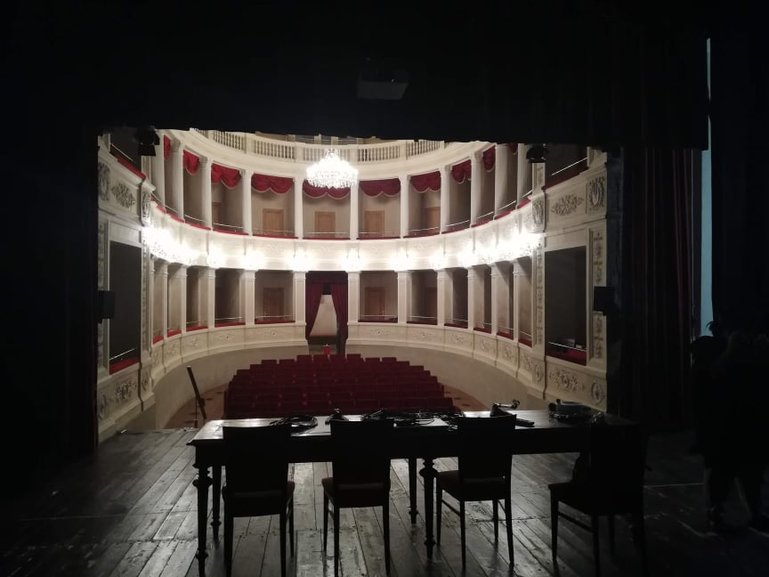 San Nicola degli Angeli Theater - Montelupone
Other attractions you won't miss while in Montelupone are:
Arts and craft museum
Museum of Photography, with more than 700 cameras, from the 1800's onward.
San Francesco Church
And many historic buildings.
Don't forget to visit Parco Franchi too. There's a breathtaking view of the sea and hills.
You can learn more about Montelupone taking part in a free guided tour at the Ufficio del Turista, but for a unique experience stay in town till afternoon and find out what La Taverna dell'Artista offers.
Here, you can join a Mystery tour held by the owner. 2 hours around the town, at night, discovering ghosts and legends mixed with real events. It doesn't matter what age you are, it will be amazing! Believe me! Are you looking for more adrenaline? Why not to try the escape room in the underground caves? Will you be able to defeat ghosts and get your freedom back in an hour?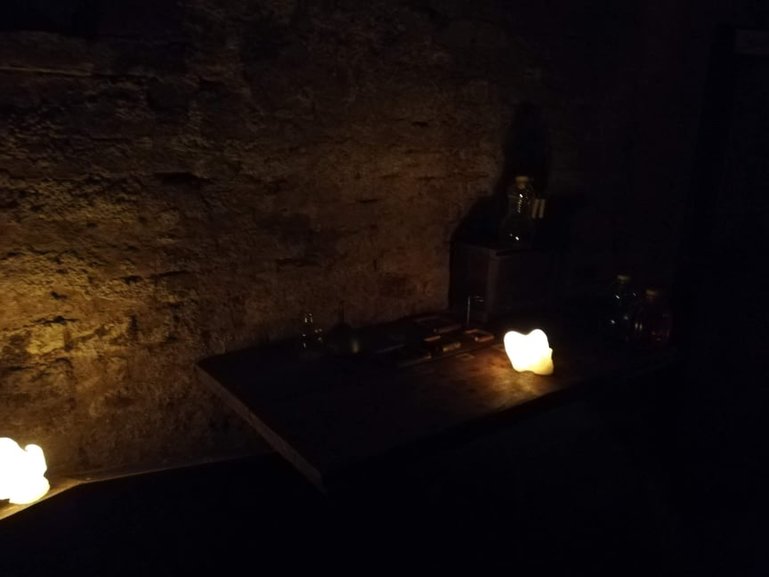 Cave Escape Room - La Taverna dell'Artista - Montelupone
For those seeking a place to stay overnight or typical dishes, La Taverna dell'Artista, is still the Answer. They're famous for risotti or artichokes, slow food presidium of Montelupone, but everything they have in their menu will delight you.
Accommodation in Montelupone is available here.
Cingoli and Il Cristo delle Marche
---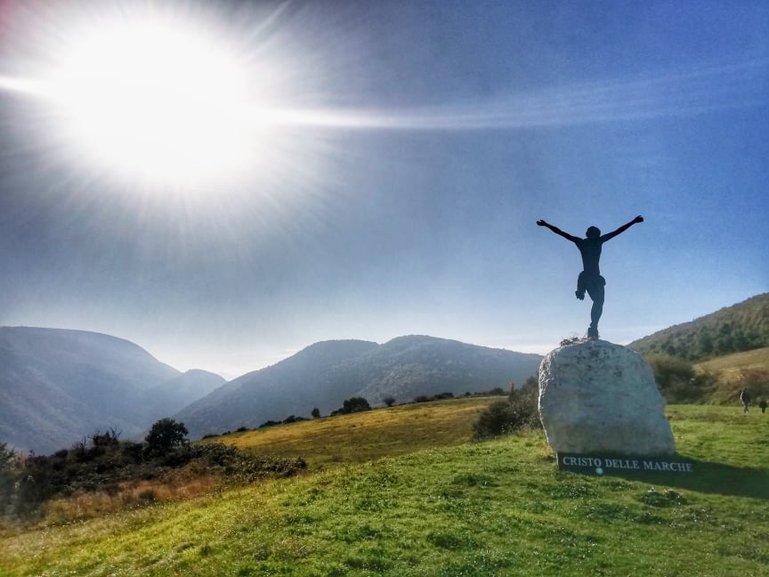 Cristo delle Marche - Cingoli
Not so far from Montelupone (only 36 kilometers), there's another hidden gem, but this time it mixes nature and arts. Cristo delle Marche is a sculpture that represent Christ embracing all the region from a spectacular natural terrace with a breathtaking view of the mountains and the sea. It's 8 kilometers away from the town of Cingoli and easy to reach by car. Once you get the locality of Avenale follow the signs and if the red gate near the Horses' corral is open, you'll arrive till the sculpture by car. Although it's an easy and pleasant 2 kilometers walk in the shade of colorful trees.
Once here it's impossible not to lay on a grass for a picnic. It's a Paradise.
After a few relaxing hours there, don't forget to visit the town of Cingoli, called Marche's Balcony. You can imagine why.
For those looking for a special souvenir, I have a sweet advice. Try a Cavalluccio di Cingoli: a short pastry biscuit stuffed with dried fruit, wort, chocolate and coffee.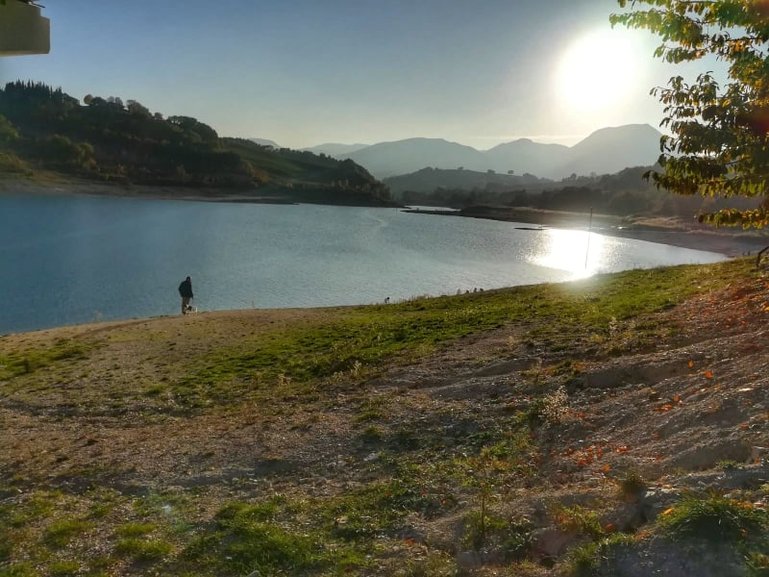 Cingoli's Lake
Last romantic tip for the best end of the day: spend some time on the shores of Cingoli's Lake. Sunsets there, are amazing.
Accommodation in Cingoli is available here.
Pioraco
---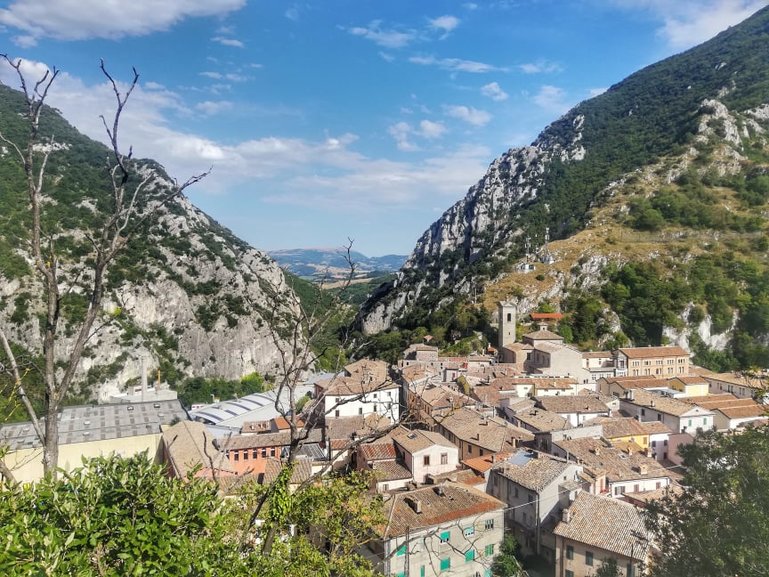 Pioraco from the viewpoint above the house in the rock
Pioraco is not so far from Umbrian border, hidden between two high rocks in the mountains. A small river flows near the old town: it has been very important for Pioraco's economy since Medieval times.
Pioraco is famous for paper Mills, the same as Fabriano (well known all over the world) and there's a great museum inside a fulling mill where you can see how sheets of papers were made, learn about watermarks and discover a big collection of fossil found in the area.
Once there you can't miss Li Vurgacci trail, surrounded by nature, near the river, which delights everybody with its soothing sound and wonderful waterfalls. There's a small spot with a natural river-view window, where you can find "Monsters" called also Li Vurgacci. They're monstrous faces carved in the rock.
Pioraco - Li Vurgacci Monsters carved in the rock
There are two ways to get there: the easiest trail starts from the historic centre, the other starts from Eremo della Madonna della Grotta, nearby, and it leads first to a panoramic viewpoint above a house set in the rock, then there's a descent on a very steep and bumpy trail. This path must be crossed carefully but it is not so difficult. Both trails are not recommended with strollers.
Another wonderful panoramic view of Pioraco is on the left of Grotta di San Vittorino, Pioraco's Patron. Just climb the stairs for a hundred meters in altitude to reach the altar and turn left in a short and narrow path. Watch your step and look at the panorama.
Culinary Tip: at the end of a special journey in Pioraco try a Pinsa with Porchetta (focaccia and pork flavored with herbs) and enjoy it, having a picnic along the river while watching a magic sunset.
Accommodation in Pioraco is available here.
Acquasanta Terme - Natural Spa
---
Could a natural spa miss in a region where there's almost everything? The answer is 18 kilometers far from Ascoli Piceno, in Acquasanta Terme. Here you can find Lu Vurghe, an hidden Paradise with a few small sulphurous thermal water pools.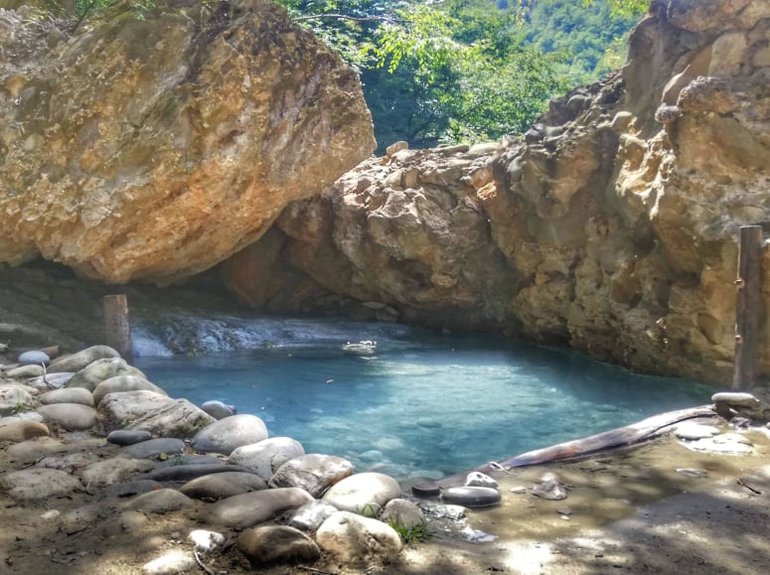 Natural Spa - Acquasanta Terme
It can be reached on foot following a downhill path through the woods within minutes (500 meters). Once there it takes a few time to get used to the stench of sulfur, but the very suggestive thermal bath will help you forget. It's accessible throughout the year, except after rainfall, even if the water is not so hot.
Accommodation near Acquasanta Terme is available here.
Morro d'Alba
---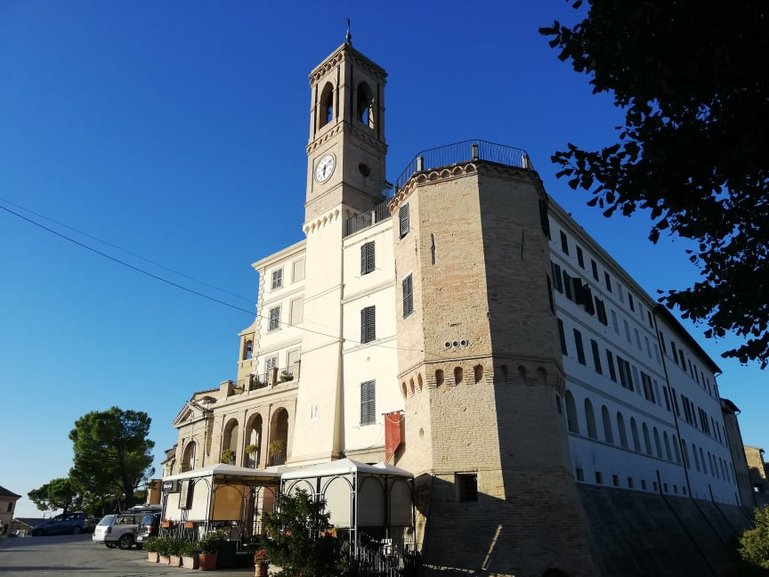 Morro d'Alba
Morro d'Alba is not far from the A14 motorway, near Senigallia exit. Recently became one of the Borghi più belli d'Italia it has a unique architectural structure called "La Scarpa". The walkway that runs through all the walls of the village (called "scarpate", that means inclined) has now became a covered circuit of 300 meters with houses developed above it. I'm sure you've never seen anything like that.
The best thing to do in Morro d'Alba is to walk around the walkway and to admire an enchanting panorama of the surrounding countryside through the arched windows. Morro d'Alba is nestled in the vineyards where the famous Lacrima di Morro d'Alba is produced.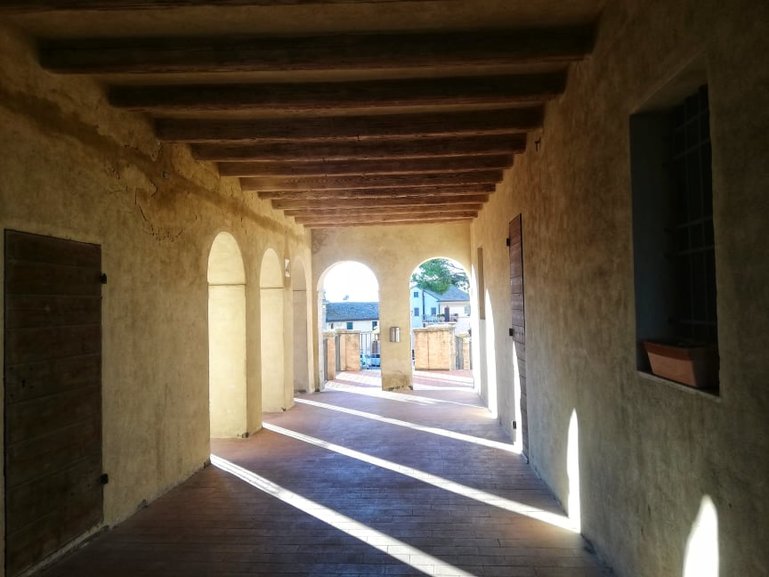 Walkway inside La Scarpa - Morro d'Alba
It is an excellent red wine, certified DOC in 1985, that dates back to Roman times. It is produced with carbonic maceration and ages in steel tanks. You can learn everything about its production and taste it by visiting any of the numerous wine cellars, such as Antica Cantina Sant'Amico. There's nothing better than sip it immersed in bright colors of vineyards, especially in autumn.
While walking though La Scarpa, don't forget to note different style of ceiling, towers (each one has a name) and visit the Museo Utensilia della Cultura Mezzadrile (Museum of Sharecropping Tools) in the basement.
While inside La Scarpa the delightful Chiesa di San Gaudenzio with gold pilasters overlooks Piazza Romagnoli. Also on the square stands the Palazzo Comunale, the Town Hall. Inside, in the Council Chamber, there's a Claudio Ridolfi's oil painting on canva, dated 17th Century. Morro d'Alba is very small but so pretty, you won't spend much time visiting but the best thing to do to know it better, is to attend one of the guided tour organized by the municipality. They're often free and rich in curiosities and anecdotes.
Accommodation in Morro d'Alba is available here.
Are you ready to explore all these lovely little towns hidden in Marche Region?