I just had 24 hours in Hamburg and put together a perfect culinary route to get to know the town from a food perspective! Join me on my day…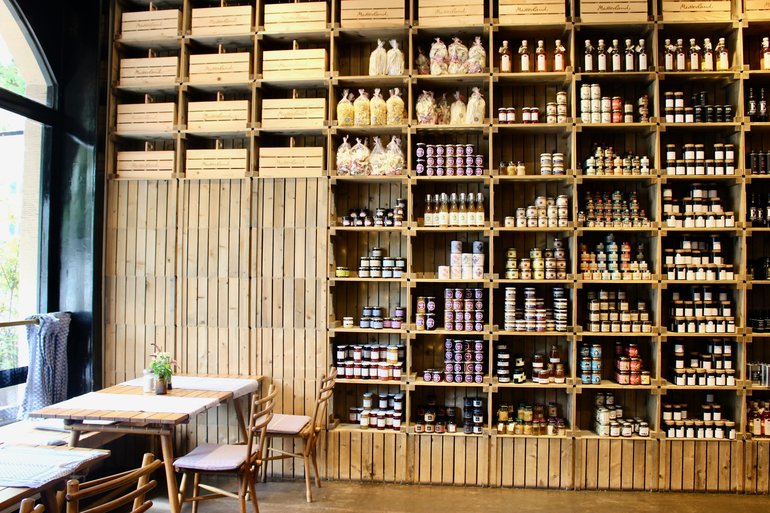 Hamburg has a lot of things to offer for a food-addicted like me. So I started my day very early and was hunting for the best "Franzbrötchen" (typical pastry with cinnamon) in town. So I visited the little confectionery ("Die Kleine Konditorei" – Lutterothstraße) and enjoyed my yield with a hot coffee in a small park in the same area. It was really goooood!
So I continued my culinary journey and walked along the river "Ise" to make my way to the popular market full of stalls with fresh fruits and vegetables as well as regional specialities called "Isemarkt". I strolled from stall to stall and had a chat with different people, tried cheese and bought some fruits and fresh bread. Just a few meters further was one of five stores in Hamburg from "Mutterland" – a company focusing on food with high quality produced by smaller manufacturers. They also offer some snacks and lunch. So I bought a suitable chutney and a white wine to match the cheese and the bread I just bought at the market. I love the concept of the store and I was happy that I finally made it to visit one of them. In connection with that I also visited "Kochhaus" which is a store providing recipes and the related ingredients. It's a perfect way to get some inspiration and to widen the culinary horizon. They do also offer other products relating to the recipes (wine, spices etc.) and snacks.
After I stored my yield in my van I made my way to a restaurant offering the best "Labskaus" in town. Labskaus is a traditional dish made of mashed beef with potatoes, topped with a fried egg and beetroot plus pickles on side. Sounds a bit weird but it was actually very tasty!!!
As a next stop I decided to take part in a guided tour through a coffee roastery (see separate post) to get to know more about Hamburgs history and to inhale the popular warehouse district from another perspective. It's the biggest historical warehouse in the world and definitely worth a visit. There is also a museum about spices and the warehouse itself.
Exhausted of all the walking I made my way back to my friends place and prepared the biggest cheese plate I've ever made with all the good cheese I bought along the cheese-route (check separate post) and at the Isemarket. I opened the bottle of wine I purchased that day, too and poured our glasses to celebrate my perfect culinary day.
If you rather eat outside I can definitely recommend the "Rindermarkthalle" which is kind of a food court, or the "Nikolai Viertel" with loads of good restaurants like "Ti Breizh" (creperie).
Check the timetables of markets in Hamburg to make sure that the one you prefer is actually open. If you are in town on a weekend you MUST visit the "Fischmarkt" early in the morning. Have fun!