When you propose to travel to places like the Canary Islands, in this case to Santa Cruz de Tenerife, you know that a paradise destination awaits you, ideal to rest while having fun knowing its many areas of tourism and leisure.
After seeing the island one thing was clear, and it's that we'll be back at some point in our lives as it was one of the most amazing trips we've ever made.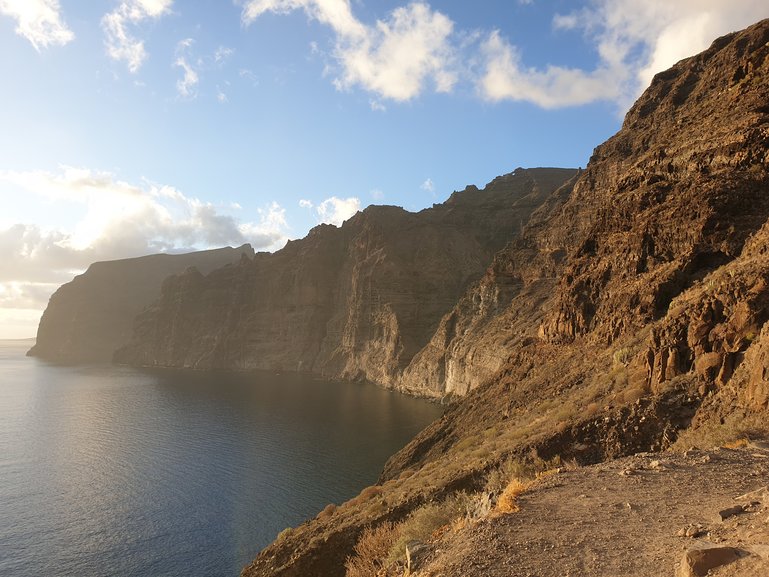 Acantilados de los Gigantes
Playa De Los Morteros
---
Our itinerary was designed according to the apartment, so the first stopping point was this beach, or rather the mountain that was just above the beach, so you could see everything from above. The beach you see from up here is the Caleta de Adeje.
La Caleta De Adeje
---
As we just mentioned, it is a small beach in a rather secluded and quiet place so you can enjoy the place well. Also seeing how the sea line is lost over the horizon is a marvel.
Playa Abama
---
It is another beautiful beach, ideal to rest and take a few photos. This beach has a restaurant on the sand so you know you will have a safe place to have a drink, although for the place where it is we do not know if it will be noticed in the price or not.
Cueva De La Vaca
---
This place is a little hidden, but you find it all right anyway. We parked the car on the beach of the Arena, which is the beach next door and curiously there was a free place for Kenny. In the so-called "Cow Cave", we loved the color of the water inside, it creates a beautiful harmony between the rocks and we certainly recommend seeing it.
Acantilado De Los Gigantes
---
The views you have from this place are definitely amazing. You can see the rocky walls of these cliffs, which we matched with the sunset, and there is a panoramic view of the perfect area. Also here you can relax as it conveys an incredible tranquility listening to the sea and seeing the scenery.
Playa De Los Gigantes
---
Located just below the aforementioned point is this black sandy beach, surrounded by sea and cliffs, being one of the beaches that we liked the most for its landscape.
Masca
---
To get here you have to imagine that you will make more curved climbs than ever before, since it is all the time uphill and on roads that do not stop going round and round, yes, all perfectly paved. Once we arrived we were amazed by the views of this place. Here there are homes where people have to see these amazing landscapes every day, for them it can be normal but for someone who visits it is very nice to see. Located in the middle of a valley and this in turn elevated on a small mountain is Masca, another important place on the list of things to see.
Teide
---
Without a doubt it is one of the strengths of this beautiful island, its volcano. It is declared a World Heritage Site and is not for less, because as you go up its roads you will find unique, desert but at the same time beautiful landscapes since you can see that everything is formed thanks to this volcano. On the road we made with the car we are finding several places to stop already signposted, where we have obviously stopped since each area had a different views to the others. Once above it is true that parking nearby is complicated, logical is one of the main attractions of Tenerife.
Once there the climb is done by cable car, something amazing, since you are flying over the highest peak in all of Spain. Once above you can see the height, both for the breathing and for the cold you may notice, we appreciate wearing a jacket. Then here it is up to you the way you want to go to tour part of the beautiful volcano and see all its magnificent and wonderful views, even being able to see other islands of the Canary Islands.
Santa Cruz De Tenerife
---
And finally we arrived in the city of Santa Cruz de Tenerife. Here we left the car in the car park that is right next to the Palmetum, ate some sandwiches that we carried echoes of the apartment, and followed our tour. It should be noted that next to this car park is the César Manrique maritime park, ideal place to rest and bathe in its multiple swimming pools. It also has next door the Castle of San Juan Bautista and the Auditorium of Tenerife, places where we have stopped to look at its charms.
This was our route around the beautiful island, don't forget to comment.
Viajes Aven