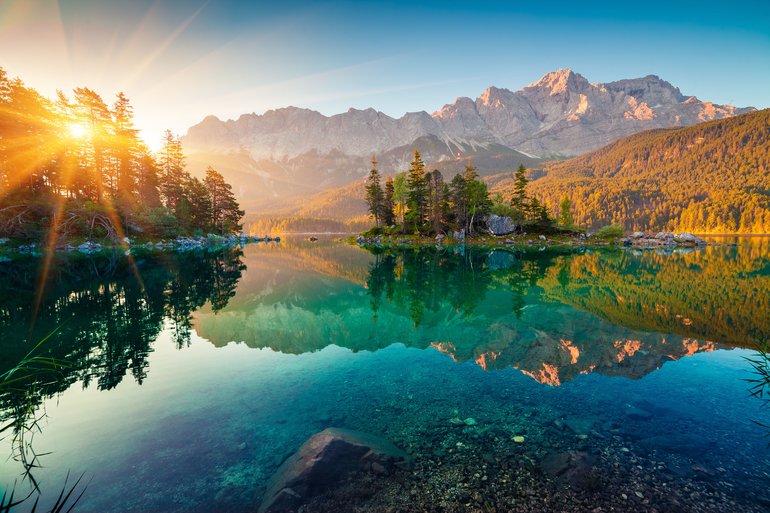 1. You'll hike through Germany and Austria during this trip
---
You'll also experience two equally famous alpine regions, Bavaria and the Tyrol. The hike begins in Bavaria, Bayern as it's known in Germany, then crosses the border into the Austrian Tyrol. Savvy folks will recognize the Tyrol as the location of another great hike in the Italian Dolomites. The Tyrol is the land of incredible food, top shelf inn keeping (think fluffy down comforters), and gorgeous scenery. You'll hike the mountain trails of the Tyrol for a large portion of the trip, then back across the border into Germany to finish where you began.
2. Garmisch-Partenkirchen
---
This town is just amazing and has everything a person could want from a Bavarian village. The chalets in town have peaked roofs and wooden shutters fancifully painted in the traditional blue and white diamond motif of Bavaria (the royal colors). Each chalet has a large wooden balcony with hand-carved spindles darkened by centuries of mountain sun and storm. And it's almost impossible not to photograph the many overflowing flower boxes that adorn each chalet window. The flowers literally burst with color. We feel a real sense of history in Garmisch-Partenkirchen. It's a place where Roman and Germanic roots present more than 2,000 years of cultural heritage. Garmisch-Partenkirchen also sits at the base of the Zugspitze, making it a perfect jumping off point for high alpine adventure.
3. You'll walk all the way around the Zugspitze
---
Standing proudly at 2,962 meters above sea level (9,718 feet), the Zugspitze is Germany's highest peak. Three thousand meters may not sound like much, (Mont Blanc is 4,810 meters), but whatever the Zugspitze may lack in elevation, it more than makes up for with stunning scenery. The landscape surrounding the Zugspitze is the land of fairy tales in every way. Cute little chalets huddle around village churches with their onion-domed steeples. Grassy meadows, dotted with the occasional cow and its sonorous bell, glow in the afternoon sun.
4. Mountain huts with sunny decks and incredible views
---
Few things are more inviting than hiking into a clearing and smelling the sweet aroma of freshly baked Apfelkuchen (German apple cake) wafting across an alpine meadow. You can stop at mountain huts for lunch during this trip, each one serving freshly cooked local specialties (mountain to table), along with coffee, wine, beer and much more. It is a real pleasure to grab a beer, prop up your feet, and watch the afternoon light play upon the limestone peaks.
5. The Wetterstein mountain range
---
It's pronounced vett-er-shtein. The Wetterstein basically make up the border between Germany and Austria. They are part 0f the Northern Limestone Alps, a mountain range which is famous for it's high concentration of complex and intricately shaped peaks. An artist would enjoy drawing these mountains just because of all the shapes and convolutions involved. We're fascinated by the Wetterstein peaks (some shaped like church-spires), and we're confident that you will be too.