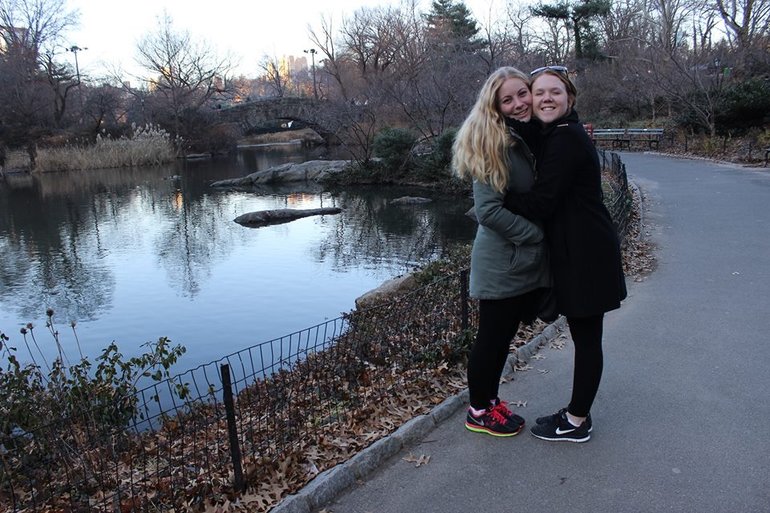 Central Park.
New York is one of, if not, my favourite city in the world.
It was always my dream to go there. I'd endlessly picture the beautiful Brooklyn homes, the snowy streets of Manhattan, and of course, the stunning Central Park.
When I was 17, I was lucky to go there for the first time. I was visiting my best friend in America for Christmas, and they surprised me with a three-day trip to the Big Apple.
I was so grateful and excited that when I saw the bus ticket that read "DC to New York W 33rd St" I burst into tears - it didn't feel real.
I knew one day that I would end up going, but I never realised it would be so soon, and at Christmas time? What a dream come true!
Now, I knew going to America in winter would be cold, but let me tell you, New York was absolutely freezing - but that didn't stop me!
I always knew the city was big, but I didn't realise HOW big - it was breathtaking, and because we only had three days, I wanted to make the absolute most of the time we had, and boy, did we do a lot.
With so much to do, I thought I'd let you know my favourite things to see and do in this magical city - my beginner's guide to New York City in winter.
First off, because NYC is literally a concrete jungle, you need to go into the clouds and see the city from above, the Rockefeller Centre is the best place to do this. With the clear glass to see through and a view of the Empire State Building, Central Park and the Statue of Liberty in the distance, there is no better place to get a 360 view of the city.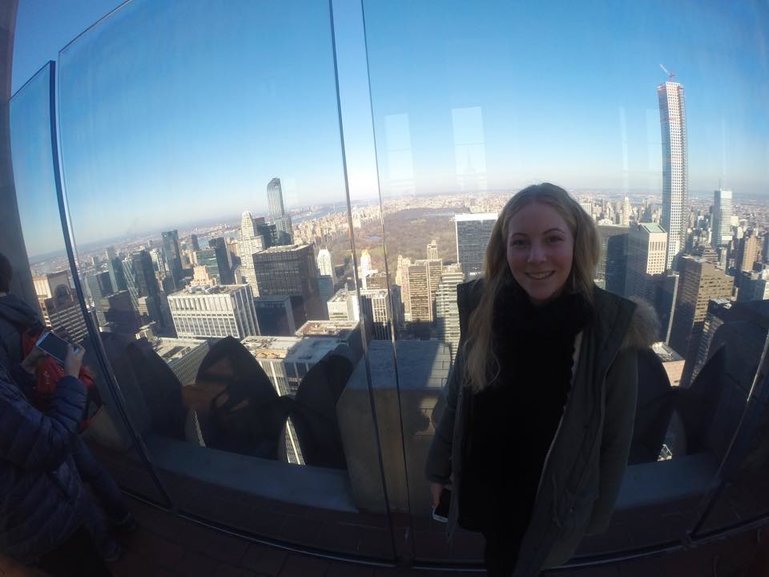 View from the Top of the Rock.
Not only is the Rockefeller Centre phenomenal from above, but you also can't miss its massive Christmas tree and ice skating rink before walking into the building. This ice skating rink is one of the busiest in New York City, so plan ahead if you want to skate on it!
Located only a few blocks away from Times Square, it's the perfect excuse to see the city and go for a bite to eat and shop in one of the busiest places in the world. Also, just around the corner on 5th Ave is the biggest Macy's in the world, and during Christmas time, all of their windows have different scenes that are to die for.
Even though Central Park is stunning in summer, it's magical in winter! Although it wasn't snowing while we were there, you can imagine what it would look like! We went to Central Park on this trip, and I felt like I was in a movie - it was so surreal. Make sure you check out the ice skating rink there too! It's bigger than the one at the Rockefeller Centre, so it means more room for you to fall over without crashing into people!
Now, when you think of New York City, you picture Central Park, Times Square, and, of course, the Statue of Liberty. I was lucky enough to get a glimpse of this bold statue on the way to Staten Island. Pro tip: if you want to go up the Statue of Liberty, you have to book at least six months in advance, so to skip the line and get an even better view, the free ferry from Manhattan to Staten Island will give you the perfect view!
I could go on and on about this phenomenal city, but to sum things up, here's a list of things to see and do on NYC winter trip.
Where to go:
Rockefeller Centre
5th Ave (Macy's)
Central Park
Times Square
Staten Island ferry (Statue of Liberty)
Ground Zero
Grand Central Station
The High Line