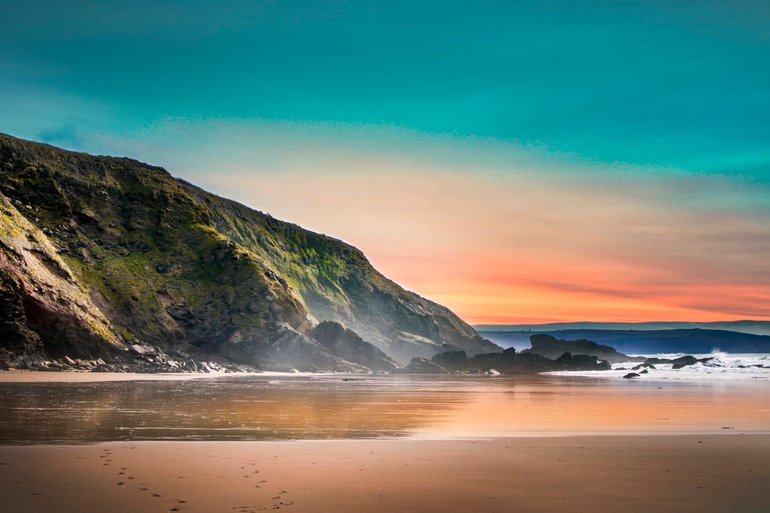 "So many of the loveliest things in England are melancholy." ― Dodie Smith
My husband's job requires him to move around internationally for work and when we were relocated to the United Kingdom, we found ourselves in a little town called Consett of Durham County, which is part of the North-East region of England. Let it be said that I've always been more of a "country kind-of-gal" and never liked living in the city, so when my husband's company offered to accommodate us in a cozy and small-town house, I was delighted. Moving and settling-in went rather smoothly, seeing as the house was fully-furnished and equipped which meant all we had to do is unpack our personal belongings from our suitcases and make ourselves comfortable. We only have a single car though, and therefore, I quickly had to navigate my way through the bus transportation system in order to start discovering the area with my toddler during the week while my hubby was at work. On weekends and holidays, we hopped in the car and visited parts of Scotland and Ireland, went to the English Coastlines and down to the London area, too. Throughout my time here and our many adventures (big or small), I feel like I've had a good opportunity of experiencing both the good, and not-so-good sides of the UK.
I'll focus on the positive first, here are my top five:
1. The Natural Landscape of the Countryside
---
Misty moors, meadows, stone walls, grass hills… You'd almost expect these wondrous sceneries to only exist in classic English literature and movies. But they don't! In fact, they are very much, and still to this day, a huge part of the local landscape and sometimes, it's so convincing that you'd expect Charles Dickens or Emily Brontë to just walk right out of an old stone cottage and wave hello. In the countryside, it's almost as though nothing has changed in centuries; as though modernization hasn't made its mark here. The people are generally very quiet, and I just love how everything contemporary is kept on the down-low and discrete. In the UK, we get to witness a beautiful combination of natural materials such as stone, brick and wood for the infrastructures' materials in order for the buildings to blend in with the surrounding nature. There are no tall apartment buildings, only little individual houses. Everything in the landscape is monochrome, whether it be nature, construction or infrastructure. Inland colors are an earthy brown and green, while coastline shades turn to poetic ocean blues and greys. I find it very grounding to not be surrounded by visual or noise pollution. There are no loud advertisements, no obnoxious billboards — I mean, even shop signs are usually pretty small and simple. Everything is calm, quiet and peaceful. And living here, I can totally understand how this land has inspired so many writers. All I want to do is sip on tea or hot chocolate and contemplate the scenery from my window while writing. The ultimate cliché.
2. English Folks are Genuinely Down-to-Earth
---
Having travelled so much, and globally, to say the least, I'm honestly amazed at how friendly and polite people are in the UK. You'd think the cold grey-ish windy and wet weather would eventually get the best of them and turn people grumpy, but no, English folks are pretty laid-back, casual and welcoming. Generally speaking, everybody is treated equally and with respect, no matter their appearance or status. I've genuinely seen it first hand: It doesn't matter whether you show up at a restaurant in a Jaguar or dressed in a fluorescent safety jacket (as many workers do here) people treat you just the same. I once saw a tattooed police officer, rocking a punk-style hairdo in Scotland. To me, it just seems like everything and everyone is really cool, easy-going and open-minded when it comes to attitude and appearance. Plus, little fashion tip, you can wear rubber rain boots everywhere and anywhere and no one will even give you a second glance. Which is great for someone like me who loves wearing rubber rain boots! Strangers call me love, darling, flower and I'm liking it. Night life begins and ends early, which keeps the serenity intact, and you can see and hear small groups of people singing and laughing in the streets of the old city centers as the sun sets in the evening.
3. Quality Locally Sourced Products
---
Okay so first off, despite the fact that I find there's a lack of product variety to choose from in the supermarkets and that you're generally bombarded with tons of ready-made meals and aisles of junk food too, the fresh produce here is still so worth mentioning. What you do find is of very high quality. The veggies and fruits are really flavourful and fresh, even if some are imported, and the meat… don't even get me started on the local meat! I guess it makes sense though, seeing the vast number of grass-fed herds of sheep and kettles of cows everywhere in the countryside. I like that a lot of products are labeled "locally-sourced" too. One thing I haven't tried yet but that I'm definitely looking forward to is tasting the local fish! And no, I don't just mean the national "fish & chips" platter you find everywhere, but fresh, quality ocean fish that I can bake at home.
4. Childcare is so… Normal
---
In the last country I was living in, honestly, finding a decent Day Care Center or Nursery for my toddler was extremely difficult. I had to put him in an expensive private facility, and in order to do so, I had to agree to so many procedures that just came off as invasive to me, such as filing a whole bunch of medical documents to register him, going through a medical triage with a nurse every single morning, bringing outdoor and indoor shoes as well as excessive changes of clothing every day, using a smartphone application that told me what and how much my child ate each day, as well as how much he slept. There was a security guard at the gate, security cameras in every room, a nutritionist on site for the meals and guess what — a child psychologist on site too (!!!), who kept tabs and reports on each kid. If my child caught a basic cold, I had to go to the GP and bring a medical certificate stating he could re-attend daycare and in one of the periodic parent's meetings, a mother asked if we could add a feature on the phone application that showed parents how many times their kids pooped during the day… wtf?! Too. Much. For. Me.
Anyway. When I visited the local nursery in my little town upon arriving in Consett, I was relieved to find out I wasn't crazy for thinking that all of these overwhelming rules were obsessive and outright stupid. The new nursery was also private and of very good quality. And yet, other than an address, a date of birth, a short medical history and questions about my son's routine and habits, I wasn't asked any other intimate questions. No security cameras, no phone application, no security guard, no nurse, nor child psychologist. The food menu was very "normal" as opposed to over-the-top "healthy", and children ran around in their play areas in the same shoes all day, whether inside or out. I felt as though I could just humanely and casually discuss with my son's caregiver when I picked him up at the end of his day if I wanted to know how he ate, slept or pooped. At such an early stage in life, education is simply based on learning through play as opposed to aiming at having toddlers know their numbers, letters and participating in so many extra-curricular activities. At this new center, I was even told that I could bring my child into daycare even if he was a little sick, as long as he felt alright to be part of the group! Like I said, everything just seems so normal, uncomplicated and natural in comparison to my past experiences when it comes to teaching children. More so, parents aren't so worried, fussy nor obsessed because everyone is on the same page.
5. The British Lifestyle
---
When roaming around different parts of England, I couldn't help but notice many beautiful and "posh" areas, so to speak. Small castles, impressive estates, beautiful cars… and the list goes on! As laid-back and relaxed as people are here, they also like to dress up with class for any and every event. Having tea can be something of a ceremony and dining out can be an exquisite experience as soon as you walk into anything above your average restaurant chain. Again though, this lifestyle is all so natural and innate, it doesn't stand out and blends in perfectly with the local landscape whether you find yourself in the city or countryside.
So, that's all fine and dandy, but as well all know, not everything is always pink skies, rainbows and unicorns! Without further ado, here are the 5 things I really don't like about the United Kingdom:
1. Short Daylight and Harsh Weather
---
I moved here in November and in the wintertime, the sun rises as late as 8:00 am and sets near 4:30 pm. I think there's no need to say it, but I will anyway: The days are short! With such little daylight, I catch myself thinking how sad it is to spend so many long hours in the dark.
It's not that it's terribly cold in the Uk during the winter season, because temperatures generally stay between 0 and 5 degrees, but when it rains and the wind blows, now that's a whole other story. It seriously feels as though your skin is being stung by thousands of needles… At least, it does to me. Every once in a while, I see a few people walking around in T-Shirts, shorts or flip flops. And I honestly just don't know how they do it. When out clubbing, I'll see girls wearing short, little dresses and sandals, some without even a pair of panty hose… All I can tell myself is that they must have really strong alcohol in their blood.
2. Everything Closes Early… Too Early
---
Because of the terribly short days, the late sunrise and early sunset, it's actually hard for me to tell the time without constantly checking it and I often end up having to run errands at the end of the day and at the last minute, of course. But many stores, shops and businesses close early, even in shopping malls. There are a few big grocery stores that close late, but they're always completely empty, there's no one out at this time anyway. It's not that I go out very often, but when I do, I like having fun until the early hours of the morning. Unfortunately for me, most restaurants and clubs around here close at 2 am (or earlier), leaving me wanting more. Big cities might have it different, but in my area, everything closes too early.
3. The Sound of Silence
---
I guess I have a love-hate relationship with the UK's melancholic countryside. Most of the time, or at least a lot of the time, I really do love the quiet, the peace, the solitude and the calm of my surroundings. Yet sometimes, I feel like everything is just extremely boring and that nothing stands out of the ordinary. There aren't many public events that are held here, and overall, I just don't feel like much ever takes place or really even happens around here.
4. Expensive Cost of Life
---
There's just no way to sugar coat this one for you guys: The cost of living is high across all of the United Kingdom. I'm not used to paying so much money for every possible little thing. There aren't many free places or activities that you can enjoy over the weekends, either. You have to buy tickets for literally everything, and prices never come cheap.
5. Poor Road Infrastructures
---
It's still better than in many countries, so I won't allow myself to complain too much, but I'm rather disappointed by the overall road infrastructure in the UK. I like driving and because there isn't much daylight, I think road infrastructures should be marked and lit in a better, more convenient and visible way. Many sidewalks are in bad shape, everything is pretty clean, but I can never find public trash bins around me. Generally everything is very obscure; intersections and roundabouts aren't well identified whatsoever. You know, I'm always surprised there aren't more accidents because of it.
Overall, I do love the UK. Everything and everyone is easy-going stress-free. I'm enjoying the comfort and coziness of the globe's Northern side; my husband and toddler have adapted very quickly and life here is SIMPLE. I wish I could stick around longer, but my husband's business project is short-term, and we have exciting plans coming ahead. I guess I'll just have to soak up as much UK weather, landscape, lifestyle and culture as I can during the little time I have left, and most of all, make the best of it!
Sarah the Digital GypSea