Beyond the headline sights, what's a trip to Italy really like? What's the best way of getting around? What's the local etiquette? What should you wear? Here are some practical tips to help you on your way and ensure that your first time is a truly magical experience.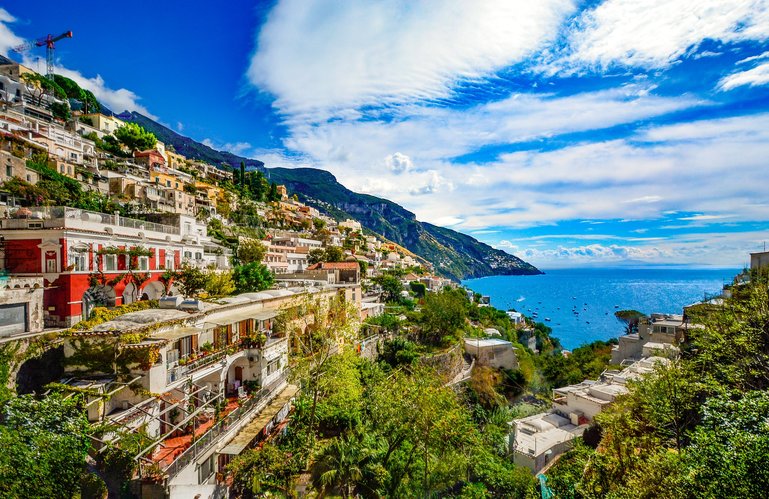 Travelling in Italy
Eating
---
Italians generally eat late, so if you want to fit in, stop for lunch at around 1.30pm and dinner at 8.30 to 9pm – the further south you go, the later they eat. A full Italian meal consists of an antipasto, a primo (usually pasta or risotto), secondo (main course, typically fish or meat), contorno (side dish), and dolce (dessert). You're not expected to eat all that, so feel free to order what you want. And when you've finished, ask for the conto (bill). Some other pointers: eat spaghetti with a fork, not a spoon. Never eat bread with pasta, though it's OK to wipe up any leftover sauce with it. This is called scarpetta (little shoe, for some reason). Drink wine with pasta and beer with pizza. It's fine to eat pizza with your hands.
What to wear
---
Appearances matter in fashion-conscious Italy. That said, you'll have to dress comfortably for sightseeing because you'll be walking a lot. Practical shoes are a must. For the evening, smart casual is the way to go. At big religious sites, dress codes are strictly enforced - cover your knees and shoulders.
Sights
---
There are no fool-proof ways of skipping the line – even with a ticket there are still security checks. But you'll cut waiting time by booking tickets online. Alternatively, try to arrive first thing in the morning or late afternoon when the queues have died down.
Museum opening times vary, but many are closed on Mondays. Also, state museums are free on the first Sunday of each month.
Tipping
---
Italians are not big tippers. The servizio (service charge) is generally added to restaurant bills, but if it's not, a euro or two is fine in trattorias and pizzerias, up to 10% in smart restaurants. Also, expect to pay for pane e coperto (a bread and cover charge) – this is standard and is added even if you don't ask for or eat the bread. Tipping in bars isn't necessary.
Caffè
---
Stopping at a cafe for a quick coffee is one of the great rituals of Italian life. To do it like a local, first pay at the cash register, then, armed with your receipt, give the barista your order. When it arrives, drink standing at the bar - sitting at a table is fine but takes longer and costs more. The classic Italian caffè is an espresso – though, the term espresso is hardly ever used in Italy. They say 'un caffé' instead. Cappuccinos are only for breakfast and are often paired with a fresh cornetto (croissant).
When eating in restaurants, un caffè after dessert is OK, but not with your main meal.
---
Traditionally, Italian shops have an afternoon break, typically closing between 1pm and 4pm. They'll then re-open until around 8pm. However, this is changing and in big cities, many shops now stay open throughout the day. Some even open on Sunday mornings.
Driving
---
It's pointless hiring a car for city travel – traffic is bad and ZTLs (limited traffic zones) are in force – but if you want to head into the countryside, it's well worth considering.
Italians tend to drive aggressively but once you've got used to the tailgaters and tooting, driving here is not as nerve-wracking as it's often made out to be. Often harder than driving is parking. Street parking is denoted by white (free) or blue lines. The latter require a ticket from a coin-operated meter or tabaccaio.
Public transport
---
Most Italian cities can be explored on foot, but you'll inevitably need to use public transport at some point. Tickets, which must be bought from a tabaccaio or street kiosk and validated once on board, are generally valid for a set time period. In Rome, for example, a single €1.50 ticket is valid for 100 minutes. During that time you can use as many trams and buses as you like and take one metro journey.
If you're staying in a city for a number of days, a travel pass will probably save you money. In Venice, a single journey on a vaporetto (water bus) costs an eye-watering €7.50, but various passes are available, starting at €20 for 24 hours.
Cash or credit card?
---
While credit cards are widely accepted in hotels, restaurants, shops and autostrada tollbooths, you can't always rely on cards in museum ticket offices, and some smaller trattorias, shops and pizzerias only take cash. ATMs (known in Italian as bancomat) are everywhere and most will accept cards tied to the Visa, MasterCard, Cirrus and Maestro systems.
And finally, learn some Italian!